Germany Velbert, 2012
Newspaper announcement in German newspaper of Master Class in Velbert.


Zandvoort, 23 February 2013
Performance in Zandvoort


Haarlem, 8th of June
Performance in Haarlem


Germany Velbert, 2013
Newspaper review of the Master Class


Amsterdam, February 12-15-2014
Master Class


April 3, 2014
Auditions Die Verkaufte Braut


July 3, 2014
Article Opera Magazine.


Interview Paula Zuidhof, July 10, 2014
www.operamagazine.nl


February 27 & 28, 2015 (10:00-17:00)
<< see flyer


Germany Velbert, 2012
This was our summer production of die Zauberflöte in Velbert.


Germany Langenberg, August 2013
Production of Le Nozze di Figaro in Langenberg


Norway, (1st June - 7th June 2015)
TONEHEIM FOLKHØGSKOLE NORWAY.


<< Please see flyer for, Summer Opera Concert and Gianni Schicchi 2015


Summer Course, July 2014

"Combine your training with professional Operatic stage performances"!

International Belcanto Academy (IBA) will be collaborating with Opera Noord

Opera Noord is a small but well-organized and extremely efficient professional opera company. The name refers to the area, where the first productions were executed. Several of those productions found their way to the 'Festival Oude Muziek' (Early Music Festival) in Utrecht and Amsterdam's Concertgebouw. On November 6, 2013 their latest project, Le Nozze di Figaro, was concluded with performances in The Haque and Haarlem. We are very pleased to announce that we will collaborate with this organization. The activities of the IBA (training programs) and those of Opera Noord (theatre productions) enable our students to unite their training with professional stage experience. Our first joint project will be Die Verkaufte Braut by Bedřich Smetana.

Project description Duration: July 6th -17th, 2014 Location: Amsterdam The training will be held in MUZYQ Atlantisplein 1, 1093 NE Amsterdam Lodging (based on bed & breakfast and shared rooms at several locations in Amsterdam) Participants are free to arrange their own lodging or to use our facilities Staff Vocal coach: Raymond Modesti Theatrical training: Nelly Vogler (director Die Verkaufte Braut) Role interpretation/audition training: Jolanta Nicolai (theatre agency All you need, Karlsruhe) Musical director: Peter Schlamilch (conductor Die Verkaufte Braut) Accompanists: Elizabeth Scarlat, Han-Louis Meijer.
Auditions: After the receipt of his/her application form we will send each candidate an invitation for the auditions, which will be held in Amsterdam on next April 3.

The course will be concluded with a staged concert Program: *before the break: arias and ensembles from several opera's At the start of the training all participants will hand over a repertoire list, from which the vocal coach and director will make a choice *after the break: arias and ensembles from Die Verkaufte Braut
Program July 6 at 4.00 p.m.: Welcome and introduction As from July 7, 10.00 a.m. till July 15, 17.00 p.m.: daily schedule with vocal lessons and rehearsals for final concert and Die Verkaufte Braut July 16 (afternoon and evening): general rehearsal and final concert July 17: break up after breakfast Course fee Participants can choose from two options: *training and lodging including breakfast: € 960.00 *training only: € 630.00 Follow up As from mid of August 2014 rehearsals for DVB will be resumed with both casts. The performances with choir and musical ensemble (2 for each cast) will take place during the last weekend of August and the first weekend of September. The exact dates for both casts and locations have not yet been determined at this moment. For their participation in the Opera NHN production singers will receive a fee to be agreed upon.

Concert Langenberg 2012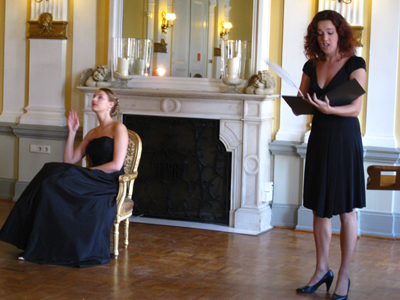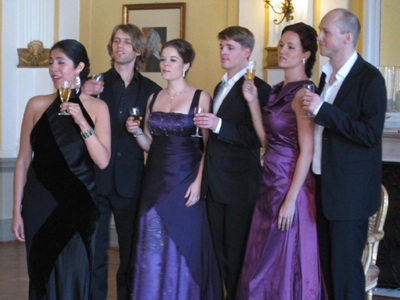 SUMMER ACADEMY 2015

For the second time our summer course will be intertwined with an opera production. On July 18, 2015 the IBA-training will be concluded with a public concert, consisting of two parts: -before the break participants will sing arias and duets from various operas -after the break Opera NHN will present a semi-staged performance of Puccini's Gianni Schicchi with piano accompaniment.
As a follow up of the IBA-summer course Opera NHN will realize one or more performances of Gianni Schicchi in Dutch theaters. Participation in the IBA-summer course entails a role in this production or as many roles that can be cast. Depending on the financial possibilities, the opera will be executed with piano or orchestra.
Musical direction
Ivo Meinen
Stage direction
Nelly Vogler
Vocal coach
Raymond Modesti
Audition coach
Marita Knobel
Accompanists
Han-Louis Meijer
Thijn Vermeulen
Sunghee Jo
Venue
Bilthoven
Period
July 5th to 18th, 2015