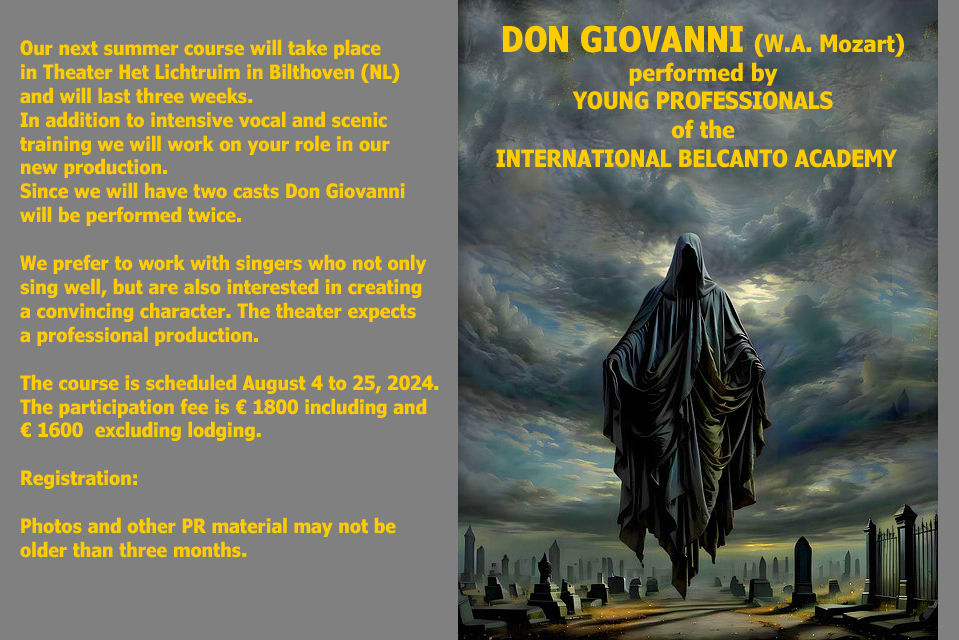 We are double-casting the following roles:
Donna Anna - Soprano
Donna Elvira - Soprano
Don Ottavio - Tenor
Leporello - Bass-Baritone
Don Giovanni - Baritone/Bass-Baritone
Masetto - Bass-Baritone
Zerlina - Soprano
Il Commendatore - Bass
In addition to intensive vocal and scenic training, the program consists of rehearsals for the performance of DON GIOVANNI
by W.A. Mozart.

Because we will be working with two casts, the opera will be performed twice.
We prefer to work with singers who not only sing well but are also interested in creating a convincing character.
The theater expects a fully professional production.
---------------------------------------------------------------------------------
Another positive feedback on our Summer course!
Lessons with Raymond Modesti are invaluable. Every time I work with him, I find more efficient and quicker ways to coordinate my breath to support the sound and stabilize the larynx rather than letting my jaw and tongue control these factors. Whenever I had hesitation or felt any unnecessary tension, he would find ways for me to achieve the same (or usually better) sound without it. I came to the program this year feeling some sort of very subtle but unneeded hold in my abdominal muscles that I wanted to address and his approach allowed me to remap and very consciously modify my breath coordination to avoid that "hold". I find this approach allows a freer sound with less manipulation and it becomes very easy to articulate the vowels in a natural speech-like way. Thank you!!!
The opportunity to perform such a wonderful role with reduced orchestra for an audience is incredible. It allows me to safely explore how to technically and dramatically execute a large role and to work through the nerves of performing. The collegial environment that Raymond and Nelly create is unlike other programs and I appreciate the effort they both put in.
One on one acting lessons with Nelly Vogler are fantastic— insightful and practical. I really enjoyed working with the conductor, Lex Wiersma .
Amy Harris
----------------------
Though I was only with Raymond Modesti for 3 weeks in voice lessons, I understood more about proper technique from Raymond in that time than in my 7+ years studying in college. He made singing feel effortless.
It was also one of the first times I felt confident about my singing. For years as an American, I felt behind in my progress. Raymond, Nelly Vogler were wonderful in reinforcing that I was perfectly on track developmentally. Their responses were incredibly refreshing to know I'm not behind.
I cannot begin to describe the positive experience I had with this program.
Trey Pittman
----------------------------------------------------------
A very nice feedback I received concerning the summer course in August and September.
-------------------------------------
Dear Raymond:
The experience that I had in IBA summer course helped me to grow as a singer in many aspects:
From the vocal aspect, with your classes, I managed to have greater body awareness and discover a healthier way to work with my voice. Through relaxation and better handling of breathing, as well as understanding that singing should be the continuation of the spoken voice.
Speak and then sing. Use the declamation as a method to discover the meaning inside each word and in this way discover the natural placement of the sounds to be projected in the song together with a good use of the posterior support and the relaxation of the jaw.
Also the concept of "inhale the voice" that is to say, to optimize the use of the resource of the air, avoiding to remain without it by expelling too much towards the outside.
Expansion of the intercostals was also very important in breathing and support.
From the artistic aspect, the atmosphere you deliver in your classes a mixture of generosity, calm, confidence, play, combined with a sense of humor and respect, greatly enhances the progress we can have as singers. This gave me a lot of confidence to express myself freely and to know other possibilities in my voice that I did not experience before.
Experimenting during those three weeks of living with such nice artists and living the production of an opera every day is one of the most necessary experiences that a singer can have.
E.W.
----------------------------------